Featured Projects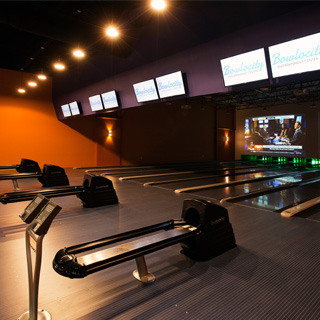 Bowlocity Entertainment Center
Rochester, MN Formerly known as Recreation Lanes
Bowlocity Entertainment Center was expanded in 2014 to include an arcade, laser tag, private meeting/party spaces, and private bowling lanes. The exterior of the existing facility was modernized and made to blend seamlessly with the new structural addition. The unique blue bowling lanes create a fresh atmosphere among the couches, high-top tables, private bar, and 24' high-definition projection screens.
Benike's Role: General Contractor
Client: Bowlocity Entertainment Center
Designers: Brian W Houwman Architects, LLC
---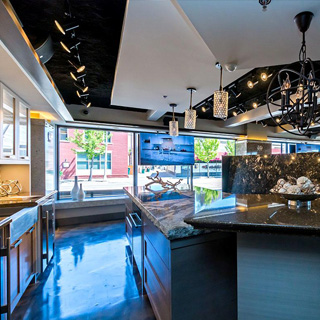 Cambria Gallery
Rochester, MN
Located in the historic Riverside Building on Broadway and 4th St S in downtown Rochester, the Cambria Gallery instills style and beauty to a familiar corner in town. The elegant showroom features numerous design options of Cambria's product line for kitchen, bath, flooring and a variety of other uses. The space was adapted to the original structure positioning contemporary style within the remarkable location.
Benike's Role: General Contractor
Client: Cambria
Designers: SKD Architects
---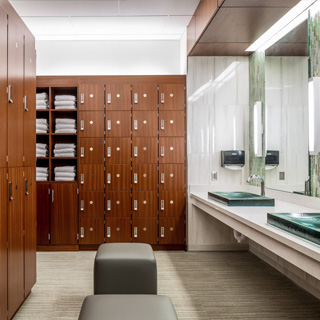 Dan Abraham Healthy Living Center Vertical Expansion (DAHLC)
Rochester, MN
The Dan Abraham Healthy Living Center, or DAHLC, is located in downtown Rochester, MN. In 2013 the original DAHLC structure was vertically expanded by 5 floors to increase its wellness offerings and add a new Sports Medicine Center located on 3rd floor.
The new facilities possess state-of-the-art technology, equipment, and treatment options. A "living wall" inside the building removes toxins from the air while emitting oxygen enhancing the indoor air quality of the space. Benike self-performed the concrete and carpentry for this exceptional structure and build-out.
Benike's Role: General Contractor
Client: Mayo Clinic
Designers: BWBR Architects, Dewberry